Sunday 10 Jun 2007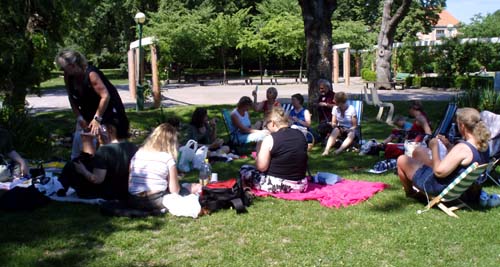 Vi fick en mycket lyckad Knit in Public Day! Det stickades, fikades, umgicks, pratades med lokaltidningen, bläddrades i böcker osv. Precis som det ska vara alltså! Det kom visserligen några korta (och mycket oväntade) regnskurar på eftermiddagen, men det hejdade inte hängivna stickerskor från att sticka vidare.
Mina pÃ¥gÃ¥ende stickningar visade sig räcka mer än väl (jag pratade och bok-bläddrade nog mer än jag stickade :). Men när jag kom hem pÃ¥ kvällen kunde jag inte hÃ¥lla mig längre utan började pÃ¥ min vita kofta. Det är alltid lite lurigt att fÃ¥ till storleken rätt, den ska inte sitta sÃ¥ tajt att det stramar, men samtidigt inte vara för "sladdrig". SvÃ¥rt att veta vad som är lagom innan man har kommit en bit. Den här gÃ¥ngen stickar jag nedifrÃ¥n och upp, och dÃ¥ är det lite svÃ¥rare att prova längs vägen.
PS. Om någon undrar över receptet på kardemumma-kakorna jag hade med så finns det här. Jag dubblade kardemumma-mängden och bytte ut ungefär en tredjedel av mjölet mot havrekli.
4 comments ilsefin | Övrigt, Stickning
4 Responses to "WWKIPD"



Det kan aldrig bli för mycket kanel å kardemumma i en kaka! ;-)

Tack för igår. Helskönt. Jag fortsatte på kvällen med båda sjalarna och introducerade också en kollega i en halsduk!




Ilsefin kan man lita pÃ¥! När man inte kunde närvara själv vid detta STOOORA evenemang, sÃ¥ kom iallafall detta inlägg som en liten tröst i tillvaron! (Men visst svider det lite i stickhjärtat, när man inser till fullo vad man missat…) Väntar nyfiken pÃ¥ resultat av den vita koftan! :)




Fina bilder!




Om någon vill hänga på oss i Stockholm i år, se:

WWKIP 12 juni 2010 – SWEDEN
Place: Humlegården Stockholm, Sweden!
Time: 12:00-16:00 Hrs
Bring knitting, something (blanket or chair) to sit on, picnic if you desire, all your knitting friends and a happy face!

http://www.facebook.com/event.php?eid=125592384124216&index=1

World Wide Knit in Public Day was started in 2005 by Danielle Landes and takes place on the second Saturday of June each year. It began as a way for knitters to come together and enjoy each others company.
Knit in Public Day is unique, in that it's the largest knitter run event in the world. Each local event is put together by a volunteer or a group of volunteers. They each organize an event because they want to, not because they have to. They bring their own fresh ideas into planning where the event should be held, and what people would like to do.
In the past some people have used this event as a means to show the general public that 'not only grannies knit!'. Knit in Public Day is really about showing the general public that knitting can be a community activity in a very distinct way. In some places there are many different knitting groups that never interact with each other, on Knit in Public Day they come together in one place, making them hard to miss.
Leave your Comment