Tuesday 03 Jun 2008
Idag när jag kom hem efter andra dagen på jobbet, en intensiv dag med många nya intryck och en hel del jobb så låg det ett lyxpaket från Garnhärvan och väntade på mig: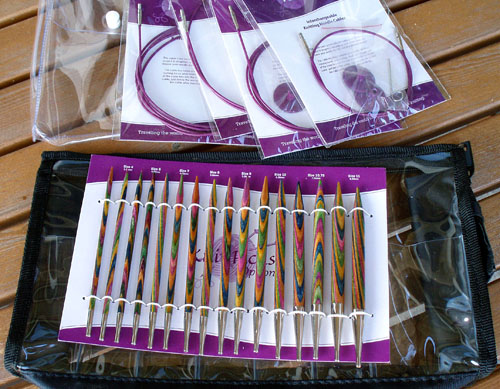 Äntligen har jag härliga rundstickor i trä i alla möjliga storlekar. De är supersköna att ha i händerna och färgerna gör mig lycklig. Nä, nu har jag inte tid att blogga mer, här ska provstickas allt möjligt!
6 Responses to "Mums!"



Nä, men vad smart

#

Annika

on 04 Jun 2008 at 8:41




SÃ¥ härligt med alla dina harmony woods! Jag har bara en…..(än sÃ¥ länge…..) :-)
Jag har haft svÃ¥rt för "trästickor" tidigare, men dessa är superhärliga. *nickar*




Jag bara älskar nya stickor, ibland känns det jag köper stickor i parti och minut, men dessa rundstickor har jag aldrig sprungit på förr. Kanske är de värda att testa.




Gud, vad vackra!
GRATTIS!




Grattis! vad avundsjuk jag blir, de ser underbara ut! Du får ha stor glädje av dem! Ha en bra kväll!




lovely, lovely needles!!
I have a love affair with wooden needles!!
Leave your Comment